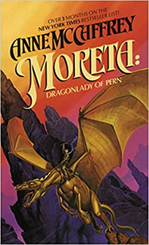 Recently, I re-read Anne McCaffrey's book Moreta: Dragonlady of Pern, as well as my favorite Nerilka's Story. During Covid 19, the book has SO much more relevance, and importance than I remembered.  I'm a little surprised that during the vaccinations it hasn't come up. Because it was prescient.
When retrospectives were written for Our Own Worlds, many of the writers had to take some serious steps back because of COVID. Mine, at the end of 2020 was a bit more than just for COVID. I took an Elder Care step back. 
The two different households of my life are only about 70 miles apart.  One is in an area where mask wearing was, and is often a bane of contention, and another where it is not.  Vaccinations are now available to far more people than there ever were before, but COVID is trying to come up with variants in an effort of its own miserable plan of world domination and decimation.  Anne McCaffery's book details viral inoculation and why it's good to get it done.
In a few days, I'll have gotten my second shot.  This is wild to me.  At first, it was nearly impossible to get an appointment, and I could get in early, because as an caregiver I was on the short list. In the early months, however, I couldn't leave my mother too long if I could have travelled far enough where appointments abounded. 
The possible death of a world is involved.  Just as it was for Moreta, and Pern.  In both these books the plague that was ravaging the continent was 'merely' influenza.  Something that many people discount as a killer—just as many have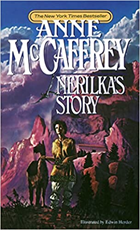 discounted COVID as a killer, despite statistics. 
I'll admit that when I've read it in the past, I scoffed at the flu being a killer. I won't scoff now, and celebrate that there are flu vaccines out there that mitigate the severity of such a 'minor' illness.
Moreta: Dragonlady of Pern was one of the novels my mother gave me when she was working at Avis G. Williams library. It was why I became a writer.
Please get the vaccine. Help us mitigate the tide of the new variants from taking hold. For those of us who have to juggle so much just to TRY and get to one, if not two: DO IT. I might not be able to write for a while, but we can do what we can to save our world. Sounds trite, but I do mean it.