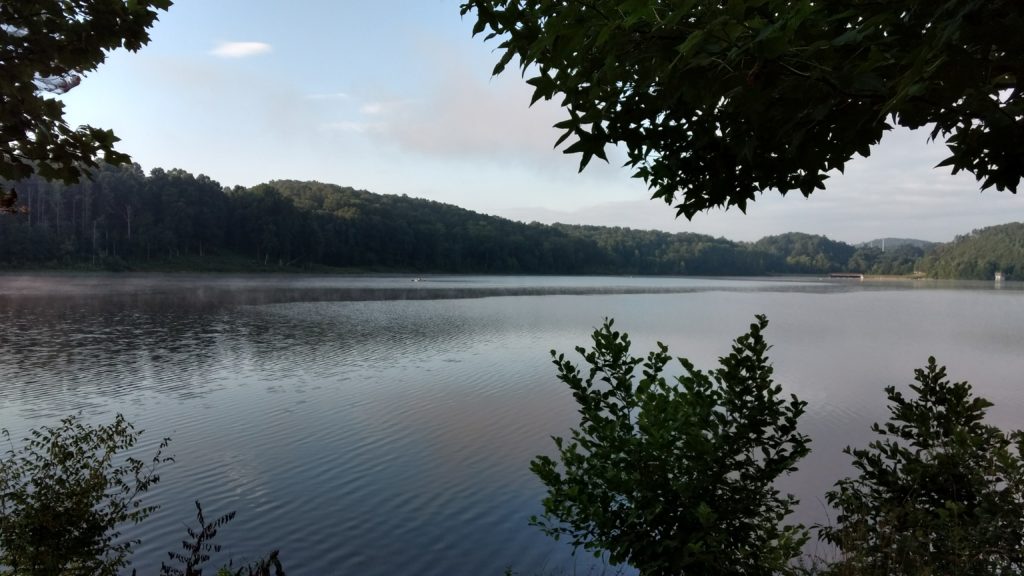 Maybe I'll get used to it!
A friend gifted me with a new phone.  I had been talking about how I didn't want to carry my iPad on my hikes to take pictures.  My phone was/is a flip phone.  I love the thing.  I wouldn't take pictures with it.  There would be no point.  But this hike, taking photos like the one above, helped me understand far more clearly my reluctance to get a smart phone, no matter how grateful I am for this gift.
Two days before I got in four miles of a hike, and figured out what was going wrong with my Work in Progress (WiP).  Everything fell into place as I went around the lake pictured above (or rather, part way; I tend to turn back instead of looping it.  Not pictured is that part of the loop is along a highway).  Today, I didn't get a full mile in before turning back.  I took what felt like a ridiculous number of photographs, though I had far, far more control than my ancient iPad I wouldn't want with me if I broke into a jog even if I had it in a back pack.   (I do run when my body or my soul feels like it.  And the past few times out I had surprised myself with such exuberance).
The first thing I noticed was I wasn't actually enjoying nature the way I normally do.  I took pictures instead.  I wasn't thinking about my writing work, meditating, or praying, or anything.  I was taking pictures.  To my surprise, there were a number of people on this trail, and each time they found me fiddling with this phone I felt such a deep sense of embarrassment, like I got caught out in something socially unacceptable (which most people will probably find funny.  Feel free to laugh at me. I am).  Despite the fact that, excepting the older couple, most of them were probably far more familiar with smart phones than I am.
WHY did this bother me so much?  A number of people assumed that I'd fall in love with this thing and give up my flip phone and never turn back.  Someone even laughed at my belief that this would not happen.
Let me make this clear.  I am VERY grateful for this gift of a phone.  I know that it will help me.  It allows me to take pictures I'd never be able to take with more ancient technology.  It allows me to save it where I can use it on my bamboo computer and my cracked screen iPad2. It takes incredible photographs–and that's what I hoped for, especially as neither my flip phone nor my iPad can do nearly as great a job as it can.
BUT… I was distracted.  I wasn't present in the moment. I was present with the phone. I was focused on taking pictures, and not writing, not nature.
I have known this trail since it was finished.  Each time I walk it, I still find myself in awe of this glorious planet we are blessed to live on.  The way the light hits the water.  The way the sunrise hits the tops of the trees so high above me.  The sun kissed mist, a second sunrise display, moving in counterpoint to the rippling mirrors of light and water. The sound of the birds waking. A tree rising from crushing boulders and both respecting each others' strength.  Sometimes it's just a surprise flower, tiny, bowing over the gravel and dirt of the trail.
This is part of why that trail is so important to me.  That awe, that joy in nature is possibly the only thing that relaxes me better than a bottle of wine.  It opens up stuck places in me, and in my writing.  That four mile sweaty hike I had two days before was the difference between staying stuck in the WiP and being able to finish the draft.
Today, I didn't really see it.  I found myself wondering if I could take writing notes on this smart phone… losing the fact that often if I can't remember it from the trail to the house… it wasn't a significant plot point or character flaw or arc anyway.  There's also something important in writing it down on note paper if I have it–which doesn't take me away from the world or my writing.
I must make peace with this gift.  Make use of it the way I want to, because I honestly do see its value!  I must accept the fact that I've never understood these devices in a way that makes them popular.  Frankly, I don't have to.  I can still use it the way that works for me, having gotten the whole photo taking thing out of my system (I hope.  I was a photography major before becoming a writing major in college, so… ).  I do not have to text.  I don't text on my flip phone either (that would be ridiculous, frankly!).  I can respect that I like to talk to people on the phone (yes *talking*), or preferably in person.  The one great gift of this phone is that it highlighted how much I love the world and its people–the real world, and real people, and not digital pixels and sound bites.  That my writing rises out of these glorious, joyous things.
There were times I felt far too connected with the aging devices I have. I do not have to feel dragged into the part of the whole "modern age" with this device, or without it.  Today I was able to confront my feelings about smart phones in general, and I'm grateful for that as well!  I can let it become part of my life, and even my writing life, opening up even more reasons to be grateful for this gift.
One day, I'll take the phone out on me with this trail, and take a picture of the place where that WiP I was talking about began to rise up and talk to me.  I do want to show you that.  I do want to share that, even if the picture cannot convey that sense of journey that one stretch of trail gave me.  I can at least show it to you, even as I finish writing the novel, and working on it till I can get into your hands.  That, in honesty, is the one reason I wanted the phone, and accepted the gift.  Even if today… I couldn't get to that place.  Even if today I was just an extension of a phone, and not myself.
I'll try again tomorrow.