There's a very, very good belief in the writing world that one must write every day.  I remember reading in Stephen King's On Writing, "The truth is that when I'm writing, I write every day, workaholic dweeb or not. That includes Christmas, the Fourth, and my birthday… and when I'm not working, I'm not working at all, although during those periods of full stop I usually feel at loose ends with myself and have trouble sleeping." (King, Stephen, On Writing. New York: Scrivener, 2000. p. 153)
I'm not there yet, although when I'm within the process of writing and I can't write: YES! Loose ends, trouble sleeping, and more.  I want other things in my life, and I try to let them in, such as training in HEMA with a woman who currently lives about an hour away.  I should have known that wouldn't work.  I'm sitting here in my PJs, having forgotten all about my morning coffee, and my plans to work out; I've now spent over an hour writing. I want to be stronger, and I want to remain healthy.  I like being fit. I want to train more with swords. Instead, I'm looking at side obligations to my writing career rather than finishing my ice cold coffee and at least getting a shower if the whole concept of a workout is blown before I have to go to work.
I have one week day off, and one weekend day off.  That one week day is now my writing day. That doesn't mean I don't write on other days. I've allowed time for writing blogs, training, and re-learning French.  Before I decided that that one week day was sacrosanct, I'd hoped to use for training in HEMA.  I gave up on something I already loved, for something I loved better. Those plans devolved, or transformed, and became a writing day.
It may have seemed to me, working part time the way I do, that I had plenty of time to both write and do other things till a full time job became mine.  It didn't, and doesn't.  Like keeps intruding. And not writing hurts!  I get cranky, and mean. Along with other great wisdom, Chuck Wendig says in his post HOW TO MAXIMIZE YOUR WORD COUNT AND WRITE MORE EVERY DAY: that we have to: "SNATCH TIME FROM LIFE'S THIEVING JAWS AND USE IT TO WRITE… If you're going to write a lot, you're going to need to feint and duck, stick and move, and reach in to grab fistfuls of time-flesh and use it for your own sinister purposes: in this case, writing. Got a lunch break? Write. Sitting at a long stop light? Take a few quick voice notes on your phone. Lounging around in post-coital baboon afterglow? Put some words to paper, goddamnit."
So I've snatched time from working out by writing a blog or two.  Life snatches time from writing enough times so I do not feel bad at all!  But, now I'm going to snatch it from both to work on my novel, and  get on with the work at hand!
_________
p.s.  Some days you just have to let life snatch things from your writing time.  I closed my m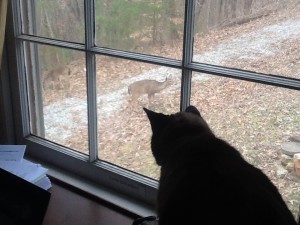 y computer after taking this, and just watched.  Writing may be more important than most things, but this…?  A very quiet moment of my day. Two of them would come up a bit further up, directly in my line of view, and so close I could see, on one, the lines of light brown hair, moving above the eyes, over the places where his horns still peeked out.
It was not wasted time.  They stayed, even braving the appearance of the outdoor cats a time or two.  And then I opened my computer to add this, and to get back to work.  Write On!